Everything should be made as simple as possible, but not simpler.
Albert Einstein
Buying bitcoins appears to be a minefield
It does appear hard to buy cryptocurrencies but it is actually a set of steps. Some simple, some a little more complicated to the beginner.
Firstly the most traditional route is buy bitcoins directly, holding them yourself is generally advisable. You can generally buy them from an individual you know, an exchange or face to face using localbitcoins.com
From a UK point of view the best place to buy in my opinion is bitstamp.net, I have personally been using them since they opened, they tried to get registered with the UK Financial Conduct Authority "but was told that bitcoin was not classed as a currency, so the exchange was not subject to regulation."
Bitstamp says that it instead regulates itself, following a set of best practices to authenticate customers and deter money laundering. In September 2013, the company began requiring account holders to verify their identity with copies of their passports and official records of their home address. In April 2016, the Luxembourgish government granted a license to Bitstamp to be fully regulated in the EU as a payment institution, allowing it to do business in all 28 EU member states. https://en.wikipedia.org/wiki/Bitstamp
In January 2021 Janet Yellen appeared to be able to influence UK financial governance and ask UK retail institutions to revisit the 2018 FCA guidelines that Crypto is – terrorist financing a "growing concern."
Cryptocurrencies are "a particular concern" when it comes to terrorist financing, potential Treasury Secretary Janet Yellen said Tuesday.
Speaking at a Senate Finance Committee hearing on her anticipated nomination after President-elect Joe Biden takes office tomorrow, Yellen said the U.S. should be aware of emerging tools for terrorist financing.
"The technologies to accomplish this change over time and we need to make sure that our methods for dealing with these matters, with tech terrorist financing, change along with changing technology, cryptocurrencies are a particular concern," she said in response to a question by Sen. Maggie Hassan (D-N.H.), who called crypto use in terrorist financing a "growing concern."
https://www.fca.org.uk/publication/correspondence/dear-ceo-letter-cryptoassets-financial-crime.pdf
The fallout from this has resulted in some retail banks most notably HSBC stating that they will not on or off ramp currency irrespective of the exchange being FCA accredited / approved.The Sunday Times first ran this story: https://currency.com/hsbc-blocks-cryptocurrency-transfers
I have had to open a Barclays account. But it is still a mess. Not Barclays fault but the exchanges back not permitting the transfer until Monday. Due to lack of transparency you cannot tell if it's the exchange lacking staff or their bank being uber cautious. So some sort of manual fraud check happened somewhere. But the web site support always quotes – some transfers may take up to 24 hours. Which to be honest is blatant lie.
On the UK retail side providing you get an account which does allow transfer to crypto exchanges FCA regulated or not, the exchange most likely using one of the 50+ UK clearing banks you have never heard of. I transferred £1000 from Barlcays to an FCA regulated exchange only to find that Barclays had put a pause confirmation on it because the receiving bank was marked as looking like a "Mondo" account – which is apparently associated with a high fraud rate.
So in summary it's still actually like the wild west and what is the best way to X changes EVERY month is a constant battle. UK Youtube commentators are increasingly useless because of their US target audience, despite the UK youtubers covering crypto pretty much being head and shoulders over the rest. They are a testament to high BBC product values being absorbed by most well educated attentive children in the UK. Just unfortunate they have to base their material on broad internal appeal.
---
Historical information
However many UK people swear by GDax via CoinBase. Complicated? If you go down the GDax route, you have to move GBP from Fidor or Revolut to CoinBase, then you move your converted fiat to GDax, then you finally buy bitcoin!
Which is best GDax or Bitstamp? I don't know as I have never used GDax/Coinbase but I just started picking up on UK folks using this route early 2018.
For the fiat to exchange the Revolut phone platform maybe worth investigating as it offers real FX prices not Post Office / UK Bank rip off rates but ONLY by a SWIFT proxy account.
Note you cannot use Revolut to transfer to Bitstamp, as Bitstamp require funds transfer to come from a named account of the account beneficiary. Revolut provide a UK FPS payment platform as a named account (IE Your full legal name) but the SWIFT payments to other currencies are via a proxy account, which many exchanges will not accept under AML regulations.
However with the Fire App. You get your own IBAN number for Sterling and Euro accounts!
The sterling account has its own sort code and account number and the euro account has its own IBAN so you can send and receive bank transfers to/from any bank account in the UK or Euro zone.
So this would enable you to go from GBP of your UK High Street bank to Revolut. Then convert GBP to EUROS in your Revolut account, then send your EUROS to your "Fire" IBAN account.
Once you have your EUROS in your "Fire" account you can send them ongoing as a EURO IBAN transfer from an account in your actual legal name to another European financial institution. Simples?
---
The notes below are historic but the gist of doing it should be a help for the rest of 2018. But do carefully read above the YouTube Meerkat "Simples" advert, which was up to date June 2018. Thanks to @spacebuzz on thebitcoin.pub for bringing fire.com to my attention.
---
Step 1.
Step 2.
Open your account with bitstamp.net and get your account verified

Click on "Account" at the top, then go to "Verify Account" down the left
You will need to submit a Passport or Driving License and utility bill to pass banking compliance checks

This may take up to 3 days
Step 3.
Move some GBP to your UK Fidor account in GBP – I recommend at least £1,000 for to make it economically worthwhile
Step 4.
Create a deposit reference in bitstamp.net
Go to "Deposit" at the top, then "EU BANK (SEPA) on the left, type in the amount in EUROS you want to buy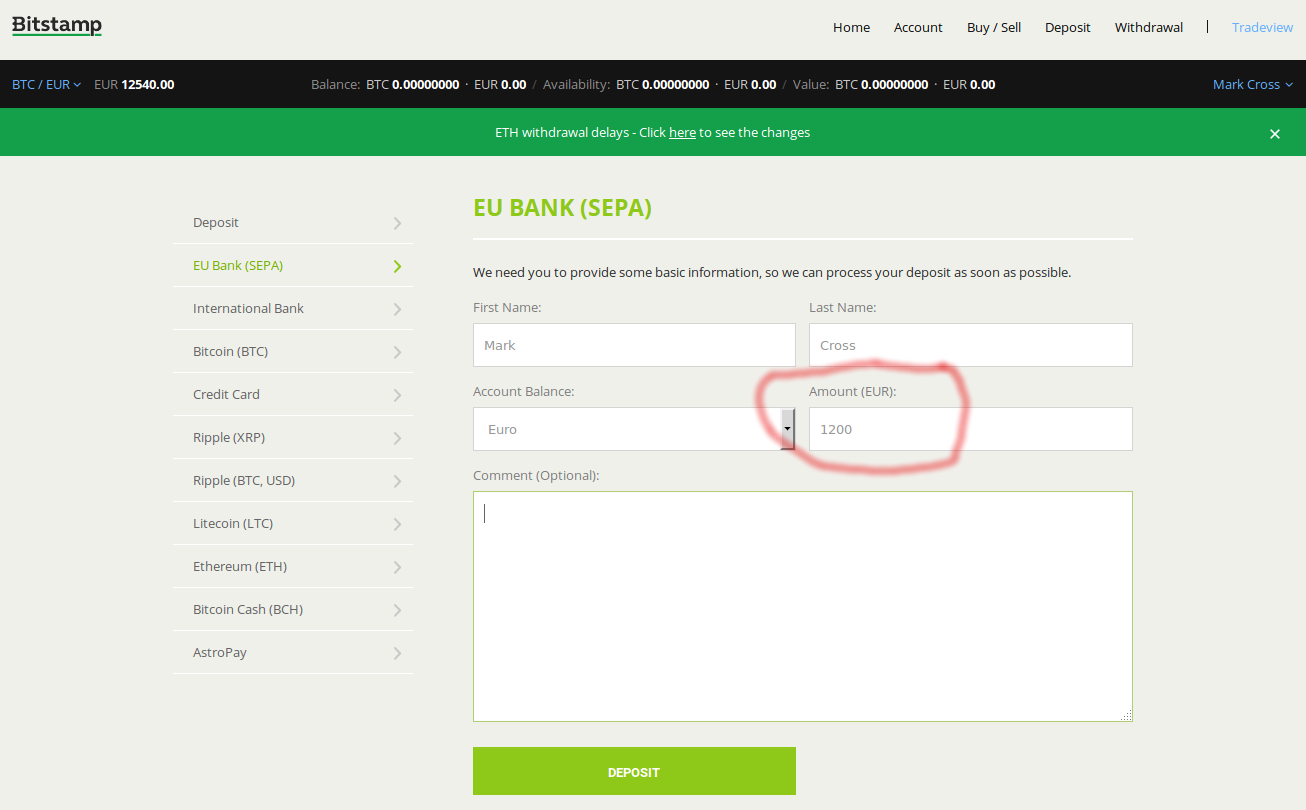 Next click on "DEPOSIT"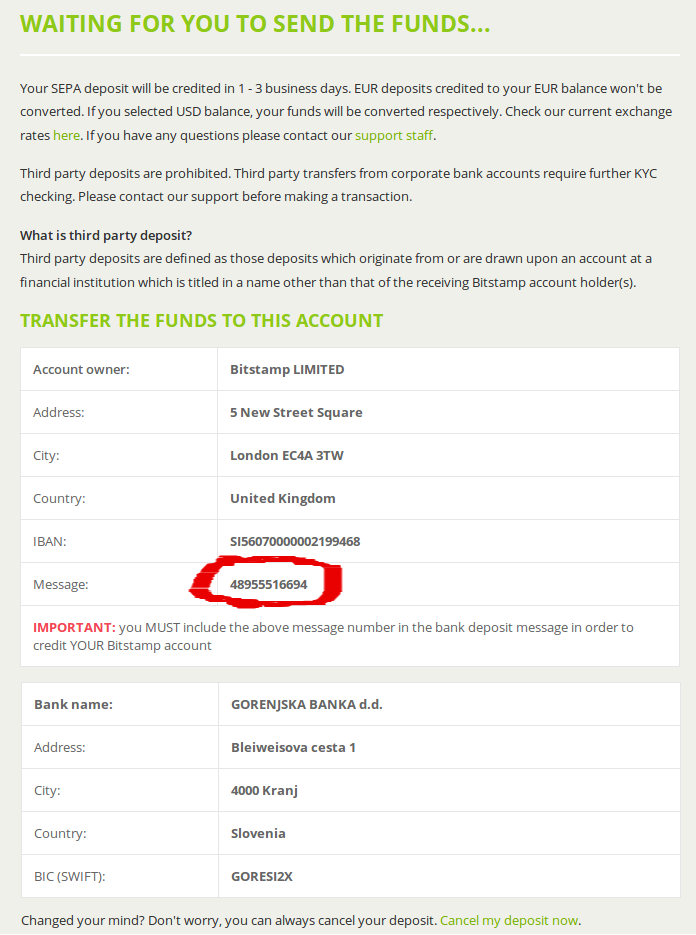 Now if you have been too lazy or you just like getting ripped off by your High Street bank, print the above out and PRAY that they type in the message (deposit reference) in the SEPA transfer correctly.
Now as I wouldn't trust the average UK bank employee to sit on a toilet seat the right way around, I strongly suggest you do NOT do this and open a Fidor UK account. Then you can do it yourself and know it's going happen. Quickly, accurately and cheaply.
A friend of mine with a serious business took on the edge of 2 hours to make an IBAN payment from his business account to pay some commission to an agent in Canada in Lloyds Bank Totnes, Devon UK. This is no longer funny.
Step 5.
Take the deposit reference the "message" you generate from bitstamp.net and login into your Fidor UK account https://www.fidorbank.uk/ and
make a EURO – SEPA payment to the bank account given on the bitstamp deposit details page with the deposit reference – "message"
Step 6.
Keep checking your bitstamp.net account, usually in less than 3 days your account will have been credited in EUROS
Step 7.
You now counter intuitively purchase you bitcoin on the EURO market on bitstamp
Click on "Buy/Sell" at the top and it should look like this. (Check the top right to make sure it shows BTC/EUR and you should see your balance in EUROS in the middle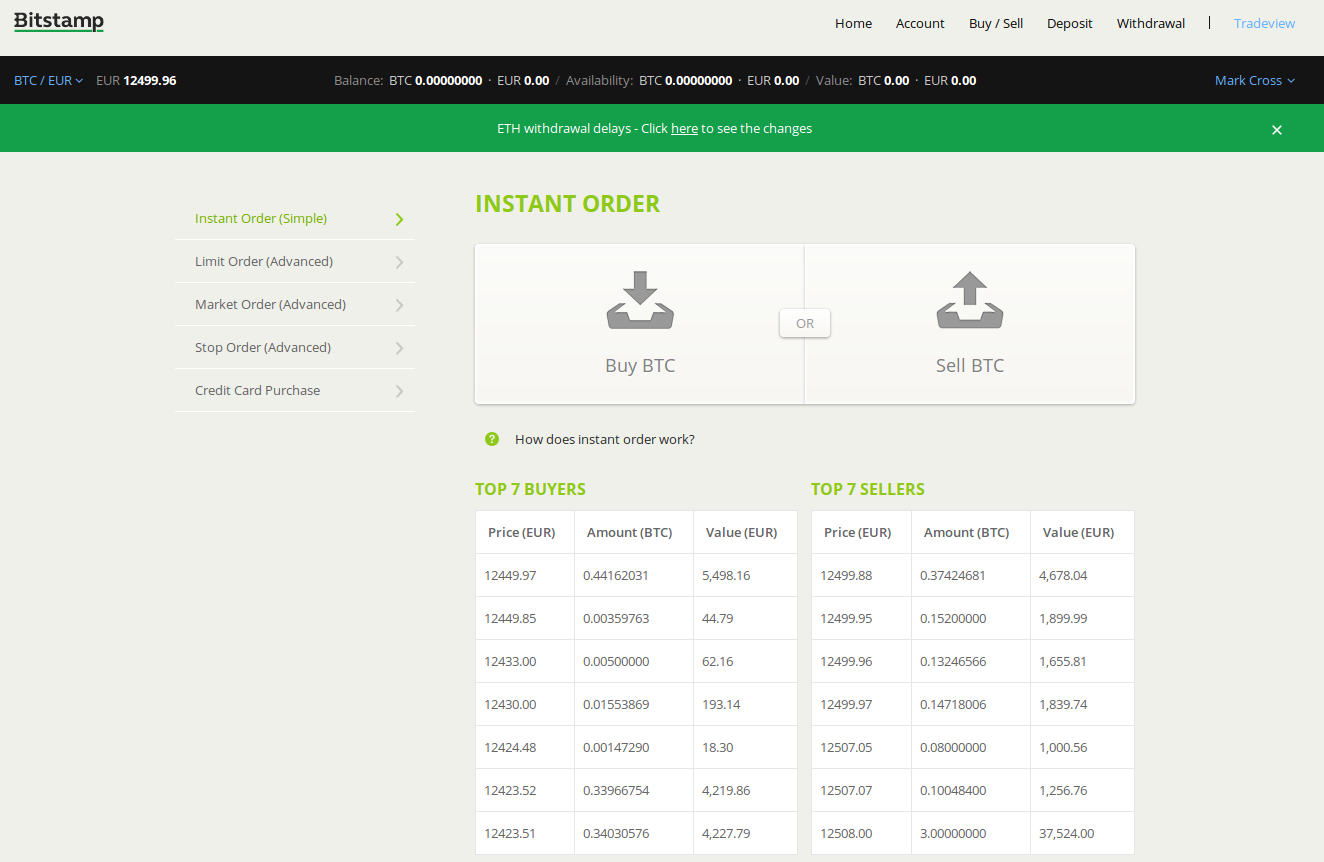 ---
If andybody wants one to one paid help, please do check out http://www.getcoins.co.uk/ my sister site to cointales.com